Are you feeling stuck in life? Many people do. Sometimes it feels as if we simply cannot move on with life. As if there was something that keeping us from pursuing our dreams and hopes. AND THERE WE ARE, Stuck! We feel limited and simply do not know what to do. We have no idea how to break free from the limitations that are imposed upon us. What is worse, we do not even know what it is that is imposed on us and who imposes these limitations on us. It's quite scary to be confronted with an invisible obstacle you cannot seem to tackle. Even though the situation may seem hopeless, there's much you can do about it. In fact, there are a variety of highly efficient tactics and powerful tricks you can use to free yourself from being stuck in a rut.
To illustrate how painful being stuck can be, I want to draw from the analogy of the movie, the Groundhog Day. If you have not seen the film Groundhog Day, please do so immediately—it is hilariously entertaining, touching, and has thousands of implicit lessons for improving one's life, community, and the world. Some of you may know I wrote my dissertation on the 1993 romantic fantasy starring Bill Murray, directed by the late Harold Ramis.
Groundhog Day is about an arrogant TV weather man (Bill Murray) who finds himself stuck in a time loop where he keeps repeating the same day over and over. The worse part? He's the only one who remembers the past day's events — no one else seems to remember anything! At first he uses this time loop for personal gain. After a while though, he starts to evaluate his life and priorities.
In the movie, the main character, Phil Connors is trapped in a recurring day — a freezing February day in Punxsutawney. The town never changes; the events and the people never change. Only Phil can change.
It is impossible for Phil to have any control over the external world. Every morning he wakes up and it's the same day again. He is compelled to find how best to survive and prosper, and decide if this is a curse or maybe a blessing. This is a nightmare everyone fears: to be trapped in a repeat mode forever. Boredom crushes creativity and saps motivation at work and at home. The good news, there is an antidote to boredom. It is about tapping into the power of purpose. The fun part is that there are 5 lessons to be learned from the movie.

So what you can you and I do to get unstuck? As we have already established, you won't be able to break free by digging deeper. What is necessary is to find another approach that helps us to address the underlying issue.
Here a some lessons for us
Don't give up.
Again, Groundhog Day as life metaphor: Most of us have at some point been trapped in a situation where no matter what we did, we couldn't extricate ourselves from some endless cycle of lameness. In the film, Phil's attempts to bypass the situation altogether by offing himself don't pan out; they don't solve anything. The lesson is clear: Giving up doesn't solve the problem.
Look at the big picture
This is about meeting yourself where you are. What are the current issues? Where do you want to be? And what is the in between? Remember, "The way out, is through."
Take the wheel.
Stop being a passenger in your own life. Take responsibility for your well-being and break the cycle of blame. Where you are today is solely the result of your choices and actions. Where you will be tomorrow is a result of things you do or don't do today. Your circumstances and your results are your responsibility. Yes, many external factors are beyond your control, but you can change how you feel about them.
Do your best, live in the moment.
Your best may be different at different times, and at different tasks and in different situations, but it begins with being in the presence, being in the moment you will always know when you are doing it. "Presence" is not about attracting attention to oneself, as some seem to think, but about being present and PAYING attention.
Express, Don't Repress
As you work your way through your rut, don't suppress your emotions. Instead, experience them fully. Going back to our example of a job loss, perhaps you're very sad that you lost your job. Maybe you loved that job and wanted to stay with the company for the rest of your working career. Rather than be depressed for weeks or even months, express the emotion you're feeling. If you feel you need to cry or yell out in rage, then do so. After you've let the emotion out, let it be. Don't dwell on it forever. Experience the emotion and then move on. Remember, each event we experience in our life is a learning opportunity. Find the lesson that's hidden in your current situation so you can move on.
We are All in a Prison of Our Own Making
Everyone is living out their own Groundhog Day as we speak. You're bumping into the same problems, the same issues, the same challenges in most of the situations you're in, because, duh, you're you, and this is your heavy, heavy synthetic bag. You could even argue that this is The Point of why you're here.
Help Others In Need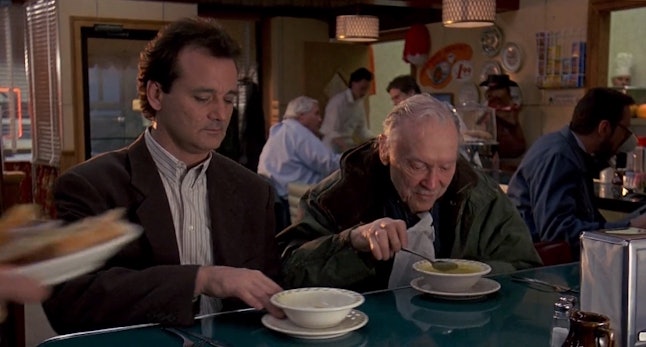 The first time that Phil passes the old homeless man on the street in Punxsutawney, he pats his pockets pretending not to have any money. But over the course of the movie, Phil becomes more and more empathetic to the old man's tragic situation. Phil buys him meals on numerous occasions, and tries to save the guy's life when he's stuck out in the cold. Phil also repeatedly catches a kid who falls out of a tree, helps some women with a flat tire, and performs the Heimlich maneuver on a restaurant goer. As his actions show, helping others doesn't just only make them feel good — it can make you feel great, too.
Do one thing at a time
Anxiety and overwhelm kick in when there's a lot going on.
But even when you have a lot to do, it's impossible to do everything at once. The most effective way to make progress towards any goal is by doing one thing at a time.
Make a list of what's most important for you to do. Do one thing first. Then, move on to the next. Keep repeating until your day is through. When you get distracted, come back to the one thing you're focusing on.
Give thanks to whatever or whoever you give thanks to, but acknowledge your own role in your success.
Live in Beauty
The French believe each day should be lived in beauty. No, that doesn't give free rein to having a closet, cleaning the garage or basement. I do love a nice pair of shoes. It expresses that life is beautiful…hardships and all. Notice the single flower reaching for the sunshine through the snow, or the dog out for a walk, wagging his tail and carrying a favorite ball. That is beauty. It's also a moment of perfect clarity.
Master Joyful Skills
If you are bored at work or home, put yourself on the path to master joyful skills. This can happen regardless of your time, financial resources or the level of teaching talent available in your community.You will see that even if you are working in a rough neighborhood, with a terrible work schedule and a low wage job, you can cultivate a sense of purpose.
In the movie, Bill Murray brushes up on his piano lessons with a local teacher and eventually rocks out to a full house. He worked with what was available and poured passion and purpose into it. He mastered a joyful skill.

Being stuck in a rut is no fun, but as I always say 'nothing last forever'! Everything has its season, and I strongly believe that when one door closes another opens. Just as the universe appears to work against us sometimes, it also works for us a lot of the time. Remember that the universe seeks balance, so things will eventually level out, no matter how bad the outlook may be. The more positivism you can foster during this time, the better your chances of getting out of that rut feeling better than ever. You'll be able to pour that new motivation and energy into your goals, and work that much harder (and focused) on your success. The idea is not to avoid these issues, because sometimes it is not possible, but to be aware of what they mean and know how to turn them into opportunities for new opportunities and personal reinvention .