And one day, as she was buried deep in her thoughts,
she heard a still small voice ask her
"If you could go back in life,
what would you have done differently?"
And without missing a beat
she answered, "I would have chosen me"
And finally, she made the choice..Henna Sohail

🍀🌈🌾🍂🕊🌹🌸🤗🌼🤲🏼✨💐🌷
Choose to be happy and make inner peace your mission is the best way to live life. Now organize your life to attain these.-Debasish Mridha

🍀🌹🌈🕊🌾🍂✨🌸💐🌺🍃🌾💐✨🕊🌈
Spread love everywhere you go. Let no one ever come without leaving happier- Mother Teresa
🌷🌈🌸🙏🏻🌺😇🤲🏼🍀🌺🕊🌺
"The moments of happiness we enjoy take us by surprise. It is not that we seize them, but that they seize us." ― Ashley Montagu
🍀🌞🌸🌼🕊🍃🌾🍂🤲🏼💐
The 2006 movie, The Pursuit of Happyness is a 2006 movie based on the true story of Chris Gardner of San Francisco. He grew up in poverty. His father was nowhere to be found at his birth. His mother was in prison twice. He spent time in foster care, time in different family members' homes, and time being abused by his gun-wielding stepfather. As a result of his mother's chaotic life and his step father's abuse, he made a decision that he would never drink or be abusive toward others. He was also sexually assaulted at some point in his early life by a man who was a gang member. He had so much to overcome.
He joined the navy which brought him a moment of rescue. After the navy, he became a medical supply salesman. He wasn't successful. He had one marriage end in divorce and another relationship during which he had a son, end when the child's mother left him. He was left alone to care for their young son. Life continued to get more and more difficult. There were taxes to pay, overdue parking tickets, and rent that went unpaid. Eventually, Gardner was out of time and money, and he and his son were evicted. He had lost everything, but the one thing that turned out to be the most important thing to him…his son. That relationship, that commitment to caring for and providing for his son, is what kept him going. He wasn't aspiring to be wealthy so that he could find happiness. He was pursuing happiness, which for him meant steady employment, so that he could enjoy the one thing that truly made him happy, his son.
Later, after achieving his goals and becoming a successful stock broker and Wall Street legend, he offered this wisdom to others: "Walk the walk and go forward all the time. Don't just talk the talk, walk it, and go forward. The walk doesn't have to be long strides; baby steps count too. Go forward."
That is the truth of happiness in life. It's not an easy thing to find. It's one of the biggest struggles in life. Once you have it, it's a brief, fleeting thing before you face new problems. It comes and goes, but as long as you work hard for it, it will come again.
It is almost impossible to watch this movie and not start looking at your own life and the challenges that you can simply change if you just choose to be happy. Chris Gardner keeps his head up and moves towards his own pursuit of happiness. If we choose to be motivated by this character, then we will either start on a pursuit for our own happiness or continue to strengthen the pursuit we are currently on.
Happiness comes to those who choose to be happy, but many people wait needlessly for permission to be happy. Permission is nothing more than someone else's approval–but as simple as it is, it keeps them from succeeding and being happy.
Here are 10 ways to choose happiness everyday!
1. Choose Forgiveness
In his book, Five Steps to Forgiveness, clinical psychologist Everett Worthington Jr. offers a 5-step process he calls REACH. First, recall the hurt. Then empathize and try to understand the act from the perpetrator's point of view. Be altruisticby recalling a time in your life when you were forgiven. Commit to putting your forgiveness into words. You can do this either in a letter to the person you're forgiving or in your journal. Finally, try to hold on to the forgiveness. Don't dwell on your anger, hurt, and desire for vengeance.
The alternative to forgiveness is mulling over a transgression. This is a form of chronic stress.

2. Share Blessings with others.
When Chris Gardner found out he landed the big job as a broker, ran to his son's daycare. He picked him up and hugged him like there was no tomorrow. That was happiness! He realized he and his son had survived. That was happiness. They were still together. That was happiness. They were going to make it. That was happiness! Happiness is having others to share God's blessings with!

The quote on the front of his book is simply this: "I hold one thing dearer than all else-my commitment to my son." To know that he could now take care of and provide for his son was true happiness. Chris went on to become very wealthy. Because he had a right perspective about true happiness, that it involved doing what you are wired to do, that it involved taking care of the people you love, he didn't let his wealth obscure the real happiness he had discovered. He became very philanthropic. He helped the church that had helped him. He started to give money away to organizations that helped homeless people. Blessedness, happiness, is meant to be shared with others.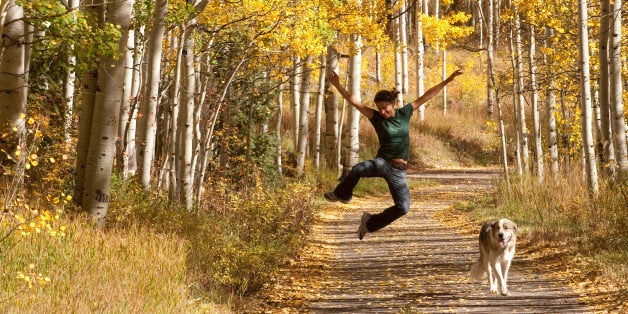 3. Count your blessings
Happy people choose to focus on the positive aspects of life rather than the negative. They set their minds on specific reasons to be grateful. They express it when possible. And they quickly discover there is always, always, something to be grateful for.
4. Permission for acceptance
Acceptance doesn't mean you have to give somethin else up, just that you a give yourself permission to be happy and to accept what is happening for you right now this moment. Acceptance says it may not be what you want it to be, but for now it's OK. Happiness is a state of mind, not always a state of being. Happiness is when what you think, what you say and what you do are in harmony.
5.Permission to be imperfect
Let's be honest–perfect isn't real. if you want to be happy, embrace your imperfections. Nothing ever great comes from being perfect, because perfect actually doesn't exist. Everything is complicated, messy and uncertain, and it's up to us to make the best of what we have and find happiness in it. Don't let perfectionism steal your happiness.
6. Permission to choose
Sometimes we get so caught up in pleasing others that we forget ourselves. The element of choosing for ourselves is a major source of happiness. Think of what you want and then make the right choices for you. Happiness is a conscious choice, not an automatic response.
7. Find pleasure in small things
Buy the grocery store flowers, sip a beautifully made coffee, take your time drinking it, and wear that bright dress or shirt that makes you smile. When you find joy in the simple pleasures of your daily life, you'll more easily choose happiness.
8. Do what you are wired to do

Do you want to be the kind of happy God says you can be? Figure out why you are here and what God has wired you to do. Go deep in your relationship with Him. Make Him the center of everything you are and do. Let Him control you from the inside so that if He asks you to, your behavior, though it might seem contrary to the ways of the world, will always please Him. And find ways to invest in people, your family, your friends, and even in strangers. Share who God is to you with them and share what He has blessed you with, with as many people as you can.
9. Distance yourself from drama
If you hang out with drama queens and princes, you will become one. Remind yourself that someone else's drama is not yours. Allow those that you love – siblings, friends- to unburden themselves to you without attaching to their stuff. Turn the conversation to a happy memory, a funny anecdote, or an exciting upcoming event. Suggest to them a good therapist or coach – not as a judgment, but out of love.
10. Fuel Your Body
You cannot thrive on fast food and four hours of sleep a night. Adequate Sleep and quality foods will fuel your body and also help you focus on choosing to be happy.
Are You Ready To Choose Happiness?
At this point, you now have learned how to be happy and should have a deeper understanding of how happiness is a choice. How you can change your circumstances, and even your own feelings, in order to live a more peaceful, rewarding life.