If you look the right way, you can see that the whole world is a garden. (Frances Hodgson
Burnett, The Secret Garden)

In 2004, I got a nursing job in High Level, Alberta, Canada. High Level is a town nine hours north of Edmonton, Alberta. My family had mixed feelings about the relocation to High Level: on one hand, we were very excited because I was getting a full-time job—which would give us extra money considering the fact that my wife was not working at the time, and we needed the extra
cash—but on the other hand, we were scared for starting life in a new unknown place; we did not know people where we were going.
I know we were supposed to feel decisive and positive about the opportunity, but we were not. I know that being indecisive and having conflicting thoughts is not always looked at well. Very frequently we are told to be decisive and are encouraged to feel unremittingly positive. In this situation, we felt that we needed to hear clearly from God. We decided to pray about it; we felt that God had the best plans for us. I believe that when one is stuck at an impasse, that is the
best opportunity to seek God for His direction.

My wife and I felt that we must seek God until we received a clear answer from heaven. Whether it was Paul's night vision of the man in Macedonia summoning him, or the voice of Jesus speaking to the disciples on the seashore in Galilee, the New Testament Christians received clear direction from the Spirit and were able to regain momentum and experience breakthrough. Sometimes Father God's ways do not make sense to us. Scripture even attests to this reality. "For as the heavens are higher than the earth, so are My ways higher than your ways, and My thoughts than your thoughts" (Isaiah 55:9 ESV). This is so because the Lord possesses infinite knowledge and perfect wisdom. He is eternal, almighty, and omniscient. He sees the end from the beginning and is completely aware of the final outcome of all things.

After spending time in prayers for a few weeks, we felt peace to relocate to High Level. I am glad we were obedient to God's direction, because through this act of obedience, we have revealed many
lessons for us to share with others. I believe that when we keep our lives in harmony with the direction God has given us to guide our lives, the more we will be in tune with His Spirit. A person who petitions the Lord for guidance must be worthy to receive it. His life must be in harmony and in keeping with the standards the Lord has prescribed for His children. His life must be in good standing before God and His people.

The journey getting to High Level was not quite smooth-from Edmonton to High Level, there are two ways of getting there: there is a paved highway via Peace River and a rougher road via Slave
Lakes. Without a GPS those days, I mistakenly chose to drive via Slave Lakes because it was straighter. Choosing to go this way was not a good idea, especially being my first trip to the unknown High Level, for most of the road was dust and lots loose gravel. There were lots of graders and truck tractors travelling on this road that day, and with our small Neon Dodge car, we felt dwarfed and blinded by the dust blown by the truck tractors as they drove past us; because of this, we had to make multiple stops to let them pass and also to let the cloudy dust settle.

As we got close to Red Earth Creek, the road was paved, and I decided to speed because we were very much behind on our time. I wanted to get caught up. Out of nowhere, I heard a police siren following us. "No, God, why now?" I threw my tantrum, and this was the last thing we needed. Getting a ticket meant paying a hefty fine and also delay waiting as the officer wrote up a ticket (I know…my fault and very bad). I was too upset that I had failed to listen to my
wife's advice to drive slow.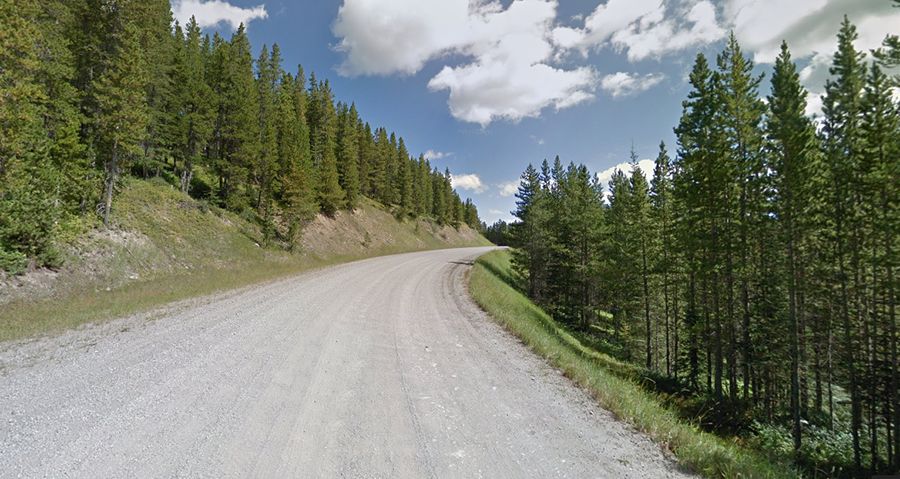 "Do you know why I stopped you?" I knew that I had been speeding. Without any mercies, the RCMP gave me a ticket of $150; it was very painful. I was devastated. This was completely frustrating! The two meters were solely my fault; I wished I had been slow. For the rest of the trip, I chose to drive at the marked speed. We arrived in High Level at around 8:00 pm. We were tired and ready to eat dinner and then sleep.

When we arrived, we were expecting for the hospital to accommodate us in some nice hotel, such as Super 8 or the best western hotels, but we were accommodated in a very lowdown motel; my
first impressions from the outside were not good: the people were loitering outside the entrance to the hotel. As soon as we stepped inside, we immediately wanted to leave, but unfortunately it was too late in the night to find something else; also, that was the place paid for us. The hallway inside the motel to our room was very run-down with worn and dirty laminate and very stale smell rugs. As expected, the bed was uncomfortable, and the pillow was old and flat; I couldn't wait to leave in the morning after talking to the hospital administration.

In the morning, I went to report to the hospital's human relations office to complete hiring papers. After I had completed the paperwork, I asked if they could move us to another hotel. The administrators refused to move us, so I was very disappointed and I felt like we were treated like we didn't matter. I was so embarrassed to return with the bad news only to find that the television didn't work. I called the front desk, but the ringer kept on ringing; so I went to the front desk. They sent someone to fix it. It took us an hour to get the internet up and running. When it worked, it was very slow as it used dial-up.
There was a family in the room next to us. I heard them getting a shower ready. Shortly after the shower was turned on, I heard a gurgling sound in my room. I went into the bathroom, and our tub filled up with about two inches of water. There was black dirt in the bottom of the tub. The shower in the next room shut off and the water drained out of my tub, but the black stuff stayed. We were disgusted. These became the ordeals we had to go through for the two weeks we were waiting for an apartment and for our things to arrive. We were all going through a very stressful time. In addition to all this, my wife and our two small kids had to stay inside the hotel room for most of the daytime hours under these conditions when I was at work. This added more stress, considering that we also did not know anyone in High Level; we started to miss old friends.

It has been many years now, and as I reflect on this situation and the lessons we learned through this experience, I see God allowed us to go through this unfair situation; because through it, there were many like this to come that He was preparing us for. At the time, the unfair treatment by the hospital human resources office forced us to our knees. We came to know that we were not in control, that we could not manage these situations in our favor. We were angry with the situation, but we were also content that we had made the right decision to make the move. We understood that our unfair treatment was not the result of our faithlessness but were allowed by God for inexplicable reasons. But we had no other choice, no other hope, than to place our confidence in him— to rest on His ultimate sense of justice, to trust in the final vindication of the righteous in his day in his way.

I very much know that when we or our loved ones are going through some tough experiences, like a prolonged sickness, what we want to hear and what we want to know is that God still cares—to
feel His closeness and to know He knows what we are going through. We want to know that God hears our prayers even in the middle of the night when no one else is there. What I strongly believe is that not a single prayer slips by God because there's no time of day He isn't listening. God heard you ten years ago and He heard you last week and He hears you right now and He's already listening for you tomorrow. In fact, He's listening so well He already knows what you're going to say.
I also know very well that God never says, "Oops." God is in control of the trials. God is not on his throne wringing his hands as he waits for the outcome of events. Even if I can't see how, I can be
confident that God is working for his glory, very much so even for our stay in the motel and even during some of the sad and dry times we had to go through as we got to start our lives in High Level.
This helps me to stop worrying about how things are going to work out.
My heart is peaceful when I remember that God promises to work for his glory and our eternal good.